Guide to Plan Your Move In Sharjah
Imagine !!
Just imagine a situation where you and your family decide to move to the city of Sharjah. You forgo hiring a mover in Dubai, calculating the expense, and underestimating the time and effort. 
let's look at how to plan an organized move
1: Assess Your Moving Needs
2: Research Movers in Sharjah
3: Set Your Budget
4: Create a Moving Checklist
5: Pack and Label Your Belongings
6: Notify Important Parties
7: Arrange for Transportation
8: Prepare Your New Home / Office 
9: Unpack and Settle In
Contact Us For Smooth  Relocation – 971 65393115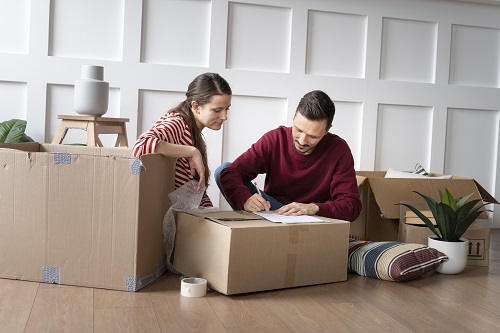 What happens next?
A variety of challenges come up your way!
Let's inspect it closely!
What you must do is put a proper plan in place.
Otherwise, expect complete chaos in your transit.
I am sure you don't get the point. 
Let me explain each in detail.
As the moving day approaches, you might realize you have not gathered enough packing materials or boxes, causing delays and extra expenses.
On the day of the move. you might have scrambled to load your belongings into a moving truck, struggling to fit everything in a disordered manner. Without proper labeling or organization, it becomes challenging to locate specific items later.
When you arrive at their new home, you find yourself overwhelmed by the unpacking process. Since they didn't plan, they have no strategy for where to place furniture or how to arrange their belongings. This lack of organization makes settling into your new home much more difficult and time-consuming.
Without prior arrangements, you may also encounter practical issues such as delayed utility connections or problems with transferring services. This can lead to inconvenience and added stress in your new environment.
Furthermore, without considering the logistics of the move, it may be difficult to do it without the necessary resources, such as hiring professional movers or renting a suitable vehicle. This lack of foresight might result in damaged or broken items during transportation, adding financial burdens to replace or repair them.
Overall, it is an overwhelming experience!
It can lead to increased stress, wasted time, financial setbacks, and difficulties in adjusting to the new home. Therefore, it is generally advisable to invest time and effort into proper planning and organization to ensure a smoother and more successful move.
Planning and Organising Your Move in Sharjah – Step By Step
Yes, planning a move to Sharjah is complex. With the right approach, it can be smooth and stress-free. In this comprehensive guide, we will provide you with a complete guide to guide your relocation process.
Read now. Thank me later!
Step 1: Assess Your Moving Needs
Do you have any idea about your moving needs? 
No matter what your answer is, Try to evaluate the size and complexity of your moving needs. So, it will help you identify whether you need to hire a professional mover or not and allocate the budget wisely.
Time is always a matter of concern throughout the move. If you are running a company or you and your spouse are busy working bees, things will go out of hand, If you don't have time management skills.
So, understand your needs and allocate time to pack, unpack, organize, transport, and tackle other unforeseen issues.
Next is assessing your safety and protection needs. If you have fragile items or any other sensitive documents. Take extra measures to secure them. 
In short, assessing your moving needs helps to achieve a smoother and faster move. It helps to avoid the last-minute rush. 
You got an idea about your moving needs. Right?
The next step is important. Take it seriously!
Step 2: Research Movers in Sharjah
The next crucial step is to research and identify the moving companies in Sharjah. Look for experienced movers. Surf through Google, and ask your friends for recommendations. Remember, finding a perfect relocation partner is just like having a friend in your thick and thin. 
So, if someone suggests you villa mover or an office mover in Sharjah, don't forget to check their online reviews.
Try to get quotes from 2 or 3 movers. It helps to compare the price and scope of work. And also makes a balance between affordability and quality!
You understood your needs and found a reliable moving company in Sharjah. Now, it is the time to plan your budget. 
Step 3: Set Your Budget
Budget often dismantles your dreams. Don't let the budget ruin your moving needs. Set a realistic budget. Consider various things under consideration. It consists of the following.
-The size of your move 
-The distance to your new location
-Additional service you require 
-The number of items you have 
-How fast you want your moving. 
Understand your finance and set a goal based on this. If you plan you can save a little and accumulate. So, you don't have financial constraints at the moment of moving.
Remember, Saving pennies paves the path for prosperous pennants.
Step 4: Create a Moving Checklist
Have you ever created a checklist?
If you have experienced it before, I am sure, you will create a checklist for your moving too.
Because it will help you to stay organized and make your tasks manageable.
So, don't make any delay. Grab a pen and paper or utilize various digital tools available in the market.
Have doubts about how to create a foolproof checklist? We have created a blog on the same.
Read it and collect maximum information.
It's your turn.
Roll your sleeves up and pack your belongings.
What are the measures to be taken?
Let's delve into it!
Step 5: Pack and Label Your Belongings
Don't underestimate the power of packaging and labeling.
One of my friends moved very recently. As he was living in a studio flat. He decided to move. 
But he made a big mistake. He didn't label the items. He thought that it would be easier to find items. 
But things turned topsy-turvy when he reached his new place.
He couldn't find the things he was looking for. So, don't make things complicated like him.
Label the boxes correctly and make things easy.
Step 6: Notify Important Parties
If you are living in a city like Sharjah, you are depending upon various services like internet, water, electricity, etc.
Notify them earlier, and avoid potential disruptions and missed communication.
It helps to minimize any potential inconvenience and allows you to settle into your new home easily.
Step 7: Arrange for Transportation
If you are moving your home or office by yourself, arranging transportation is important. If you have hired a mover in Sharjah. It would be easier for you. 
You don't need to worry about transportation and all. They will take care of everything on behalf of you.
Contact your chosen moving company to schedule transportation. Discuss everything in detail. 
Yes, you are closer to your goal.
Reaching your new home 
Let's check how to settle into your new abode.
Step 8: Prepare Your New Home / Office 
I feel you
I feel your enthusiasm to establish a residence or office.
But you need to prepare yourself to embrace the new environment.
Make sure your space is clean, welcoming, and functional.
Otherwise, you will suffer a lot along with a pile of your belongings l.
Don't give space for it.
Are you thinking about the laborious task involved in cleaning?
Don't worry!
If you hire a professional mover in Sharjah, they will do it for you.
You just go and settle down easily.
So, Be prepared. Be happy 
Step 9: Unpack and Settle In
You have cleaned your house. Your items are items that are waiting for your arrival in space.
Don't rush. Be systematic to unpack those items.
Prioritise essentials. Create a sense of order.
It will reduce your stress and provide a positive living environment in your home.
How to plan, move and settle in Sharjah effortlessly?
If you are planning to move to Sharjah, don't make things complicated. Have an idea about your needs and your circumstances. 
Create a roadmap and go smoothly. If you need any assistance, don't forget to hire a reliable moving service in Sharjah.
It will help you to relieve your burden and gives you smooth, easy, and tension-free relocation.
Are you searching for a professional mover in Sharjah?
 We have years of experience and our clients are satisfied with our service.
We are not singing our hymns.
please check our reviews below.
If you are interested, Contact us for smooth relocation – 971 65393115 
,