Safa Movers is the top Cargo Service in Dubai UAE. And we offer you a reliable and safe transport service at competitive prices so that we can ensure you get maximum cost savings on your shipping needs while getting a high-quality delivery service too!
Safa delivers national and international Cargo services with 100% safety of your valuable goods. This is not an ornamental sentence, Safa has proved it since 2005. Safa movers is the leading movers in Cargo Dubai.


We provide shipments ranging from books to heavy industrial goods at quite affordable prices. There are no shortcuts. Everything in Safa is legal and custom clearance is our guarantee. Our motto is to work sincerely for the satisfaction of our customers and till date we have succeeded in doing so. Our customer Care services are quick and efficient making no hesitance to solve the issues our customers face.
We have a team which is in touch with the customers. Unlike other companies our team is not an irresponsive one and is alert for every 24 hours a day to answer the queries of our valuable customers. We have a special department for shifting assistance with highly trained professionals that updates each and every stage of the shifting and keep in touch until the final delivery of goods is done.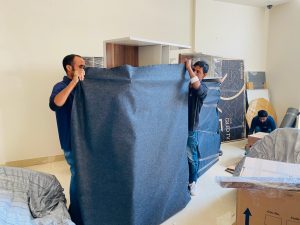 Here is what we offer to our customers as a Cargo service provider in Dubai UAE.
Door-to-Door service: We provide door-to-door cargo services for all types of goods. Our services include free pickup and delivery of your cargo from anywhere in the world to your doorstep.

Free insurance: We provide free insurance for all types of cargo. The cargo can be insured by us at any time during transportation or from the point where it leaves your premises until it reaches its destination or final destination along with full responsibility coverage for loss or damage during the transit for any reason whatsoever.

Packing & Unpacking Service: If you would like us to pack and unpack your goods before or after moving them from one place to another then we can also do this without any additional cost as part of our customer support services while delivering them smoothly without breaking anything inside so that everything arrives safely without any damage whatsoever!

Storage Service: Sometimes there could be situations when things don't move around very quickly due to certain reasons like bad weather conditions etc., which means that sometimes there may not be enough space at their new location yet but because these items were still required urgently elsewhere so they would need somewhere safe where they could store these items until they found out exactly when they needed them again which might even take weeks or months depending on how much time passes.
Safa Movers and Packers is one of the best cargo service providers in Dubai. We ensure that your goods are safe and timely delivered to you. We also offer air cargo services in Dubai to our valuable customers.
If you want to know more about our company or would like to take advantage of our services, feel free to contact us through our website or email us