Packing and moving can be a simple task if you hand over the task to the best movers and packers in Ajman. Your goods will be packed with the best quality materials in the markets and will be moved safely with no damage to the new location. The services of Safa movers and packers in Ajman do not end with this.
Unpacking and installation are also done in the new place. Every stage of shifting is updated by the shifting assistance personnel where all your queries are answered. The best and quality services are just a phone call away. So do not get confused and make the right decision in calling Safa packers and movers in Ajman for your shifting.


Whether the moving is confined to the city or out of it, only good movers and packers in Ajman can help you out of the stress of packing and shifting. If you select Safa Movers you have selected the most reliable movers and packers in Ajman that perform safe and damage-free transportation of your goods at the most affordable rate.
Nobody can beat Safa movers in its quality services. But, if you end up with an unethical or shady service provider, you are going to suffer a huge financial loss by replacing the damaged goods. The years of experience and positive feedback from our customers are evident to prove that Safa Movers and packers in Ajman is the number one in the industry.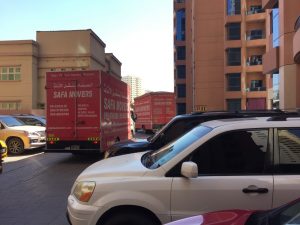 Shifting is always a time consuming one. But the people in Ajman can now relax and sit back in comfort until the entire shifting processes are done. Safa movers offer its marvelous services in Ajman. The goods are transferred without any damage and safely delivered within the time frame.
Risk Factors included in Self Relocation
-Heavy Budgets
Heavy Budgets is the worst part of a self-move. If you are going to move your assets on your own, you will have to pay huge prices. You have to pay separately for packing, transportation, and loading. The overall cost will be increased so much.
-Personal injuries
While doing those works related to packing and moving, there are lots of chances of having injuries. While packing huge objects, you might have to face different hassles too. So, it is good to use a good firm like Safa packers and movers in Ajman.
-Loss of time
By doing self-relocation, you will definitely waste lots of time. It takes a lot of time to find the best transport channels, packaging tools, and other things. But, with the help of Safa packers and movers in Ajman, your work will go smoothly. You will not waste your precious time anymore.
Why Work with Safa Movers and Packers in Ajman
Shifting is not an easy task, it needs a lot of relocation requirements. We provide reliable and trustworthy packing & moving service that deals with effective packing and reliable transport of your household and also workplace goods.
Safa Movers and Packers in Ajman offer experienced and qualified personnel assistance to get on the load to decrease the worry of moving and are recognized as one of the leading packers in Ajman for this reason.
We Safa Movers and Packers in Ajman have actually made great deals of track record, importance, and connection amongst the clients. Additionally, we have actually set up a strong network of markets throughout the UAE and possess a unique transportation network in all Emirates.
Our team includes problem-solvers, expertise, and qualified staff to supply solutions to your household requirements and freight challenges.
Our warehouses in different parts of the nation are secured and very big and perfectly insured assuring the total safety of your goods.
Local Shifting FAQs
DIFFERENCE BETWEEN RENTING A TRUCK AND HIRING PROFESSIONALS
If you rent a truck, you have to take complete responsibility for packing all the goods by yourself, searching for a dependable transport service, and loading-unloading them. House Shifting is not an easy task, it needs a lot of relocation requirements. when you hire professionals like Safa packers and movers in Ajman, we will handle the entire relocation, and you will not have to do a single task; we have our own trucks to transport or to shift the goods.
However, when you have to move less number of items and have friends who can help you with lifting and moving, renting a truck is the best option. But, when you have to move complete household goods and require expert help for shifting delicate items, it's best to hire professional moving companies like Safa packers and movers in Ajman.
How much time should I allow before contacting the moving company?
You should contact the moving packing company at-least 24 hours before you want the things to be moved.
How much time would a pre-move survey take at my home?
A pre-move survey could take anywhere between 10 to 20 minutes depending upon the nature and the number of the items to be shifted.
How do I know what I can and cannot take with me?
You don't need to worry about that as our field officer would help you in this matter.